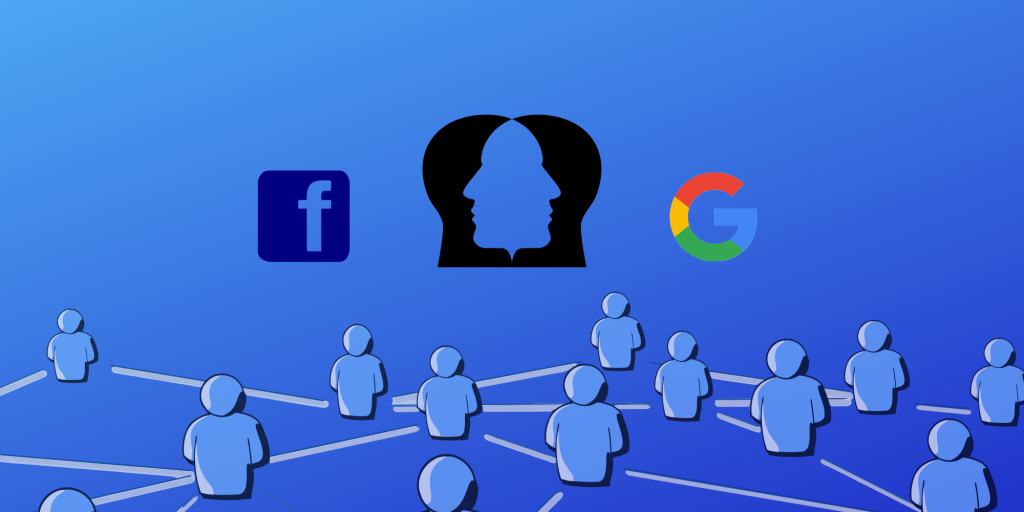 In today's highly competitive online marketing world building a top-notch strategy can mean making some tough decisions on where to invest your budget. With their billions of daily users, Facebook Ads and Google Ads are the heavy hitters, the go-to platforms that need to be considered. But these giants have long been seen as rivals, directly in head-to-head competition for online advertising.
Up until the last handful of years, businesses were faced with a decision on choosing one platform over the other. An idea that possibly didn't make solid business sense, but was a rivalry built by the opinions of technology gurus siding with one over the other. After all, brand loyalty reaches beyond the consumer.
Realistically, these sided opinions left past business owners wondering 'Did I make the right decision?' When in fact, making the decision to choose one over the other WAS ultimately the wrong decision. For their marketing strategy to have the highest impact and return possible, they needed to be choosing both!
But why?
The 'why' can be found primarily in the main difference between the two: the audience. In a simplistic nutshell, it's Paid Social vs Paid Search. Both of equal and very relevant importance.
The audience of Facebook isn't necessarily scrolling the Social King for advertisers' products, but understanding their social behaviors could lead to future conversions with the right targeted campaign. Facebook audiences are loyal, engaged and proven to be a very impactful way to build a brand.
Google audiences, on the other hand, are looking. Rather than just scrolling through a mixture of 'Friend' and finely tuned 'Sponsored' creative, Google users are coming to find the answers and the items they need. They want it fast, simple and presented in such a way to make their buying decisions easy, not laborious.
Two audiences. And harnessing the power of both can provide a finely tuned, overall marketing strategy with punch.
Consumers have become extremely savvy to not only finding what they are looking for but becoming somewhat immune to the advertising noise that can be perceived around them. Marketing strategies need to be tight, strong and highly relevant. The days of just throwing the pertinent product information together and sending it out there are far over. Buyers today want specific, engaging, stimulating, detailed information before clicking that link and handing over their hard earned dollars. But they also want it now!
Bring in Facebook Ads King of Engagement, and Google Ads King of Relevance and an advertisers marketing investment can be magnified exponentially by joining these forces in a synergistic marketing dance.
Brand awareness and social presence, for most businesses, are just as important as a slick campaign, targeted to the precise buyer, precisely where and when they are buying. These two very different objectives can be built to astonishing levels of success, but only when one considers both of these platforms in their overall Marketing Strategy.
Each platform offers some serious pros for your marketing dollars. To better understand why they work so well together, let's look at the advantages of each, the things they do well and how they fit into one, all-encompassing superpower marketing strategy.
Facebook
The King of Social Advertising
With over 2.38 billion active monthly users (1.56 billion logging on daily) scrolling through the myriad of information, Facebook provides a global forum to not only reach consumers who may never have laid eyes on your business, but allows advertisers the ability to creatively pinpoint (target) consumers with specific buying behaviors, and retarget the curious ones that had a brief encounter, but weren't in the position or readiness to buy. All while relatively seamlessly being a part of their daily social activity.
Increase Brand Awareness
With organic presence being mostly a thing of the past, building a brand requires a little more savvy to ensure success. Facebook is king for building brand awareness, and Facebook Ads pack a mean punch if the creative is solid, consistent and takes potential consumers somewhere they want to go.
Facebook Ads can significantly increase Brand Awareness by simply being present on social media. Upfront and in the view of the millions of daily scrollers. But more in-depth, by targeting like-minded audiences or remarketing to those who have shown curiosity in the brand. The subtlety of which ads are placed in a user's News Feed, ones that are targeted into that particular user's preferences, purchasing behaviors and demographics, help build not only awareness but brand trust. They can be seen as 'just another friend' and more trusted than any other advertising platform out there. Trust converts!
Combine Facebook Ads with some other interesting organic (not to mention free) options like Groups and Influencers, and a brand can start producing some serious results.
Another added bonus, advertisements can also be shown on Facebook partners like Instagram (quickly becoming a large player in the social advertising game) and Facebook Messenger, at no additional cost.
Targeting Granularity
In the world of social platforms, Facebook has no rivals. But a large majority of that audience isn't going to be interested in everything advertised. And why pay to market to an audience that is already understood to not be interested? The good news is with the tools Facebook has created, and the nature of sharing, targeting can be honed to an almost dead-on profile of your ideal consumer. Possibly right down to what they do and where they work.
With the ability to target demographic information like city, place of work, gender, age, interests, purchase behavior and even connections made, Facebook has unparalleled ability to get an advertising campaign into the view of the ideal customer, avoiding uninterested clicks that would never otherwise convert. These Microtargeting and Hyper-Relevance capabilities, for honing in on precise consumers, help ensure an advertiser is marketing to the people who have qualified or even proven, interest in what they're offering. There is very little limit to the specificity that can be layered when building finely targeted campaigns.
Similarly, another great Facebook Ads tool to drill down to the ideal audience is 'Lookalike Audiences'. Customer data is pulled from an advertiser's current website and uploaded to Facebook, building an exact audience to the one who is already purchasing their items. The campaign is then targeted to the people who fit the current buyer demographics. So even though Facebook conversions tend to be lower than that of Google, Facebook targeting can be so dialed-in that keeping the awareness alive and converting customers can prove to be quite successful.
Remarketing
Remarketing (retargeting) is becoming the most powerful ways for advertisers to grow a business and remain in the eyes of their audience. With remarketing, when current customers visit the advertiser's website (organically or even through a Google search) they can be tagged with a cookie with the intent to re-engage them with the advertisers Facebook Ad, displaying in their news feed, at a later time. A tactic that can, if not designed effectively, be construed as intrusive. But if correctly executed, can take a 'maybe' customer and convert them to a sale with a gentle, visual reminder as they scroll through.
Updating On the Fly
Other forms of advertising can see a business locked into a certain campaign for a period of time, watching precious marketing dollars disappear with no return and no way to alter. Facebook advertising is in real-time and can be altered, updated or entirely changed in an instant if the results needed aren't being reached. If an ad is proving to have no lift, change it. If one is skyrocketing, boost it. A great feature for advertisers new to the Facebook Ads realm.
Retaining What You Already Have
Customer retention for any business is crucial. For many e-commerce businesses, the 'how's' of customer retention are difficult. Providing excellent customer service is one thing, and imperative, but how does one hold the customer loyal to the brand. In this social media day and age, the best way to do this is through engagement. With the ability to create ads that have beautiful imagery, recorded video and the increasingly popular live video, engaging customers and retaining them can be quite simple and rewarding. Build into the mix a Facebook Group, one that helps support and educate customers further and can help show new audiences how great a business really is, and an advertiser can be well on their way to building loyalty and trust. Key elements to future sales.
Simple Budgeting and Return
There's no doubt that ROI can be very different based on industry, investment, creative quality, etc. But if campaigns are set up and used properly, Facebook ads can give one of the greatest returns out there.
When creating a Facebook Ad campaign, advertisers can have a budget as small as $1 (no less). Great 'minimum spend' flexibility for small businesses and businesses looking to step lightly into Facebook ads. Advertisers set a well-controlled budget (and campaign time frame). The system will even output information on potential reach as per budget. It will also display suggestions for increasing budget and the possible reach that may have. A $500 a month budget can reach an additional 1000 impressions, but with a budget of $800-$1000 a month, a campaign can typically result in more than 10,000 impressions. Take these 10,000 impressions, built to either a 'Lookalike Audience' (the ones already buying) or a precisely targeted audience, and the conversion rate of the reach can be very successful.
In addition, and as mentioned previously, Facebook is King of Engagement. Where else are you going to find paid advertising where there can be human engagement? Typically, ads are run, consumers see them and that's all. There is great value in Facebook's sea of 'Likes' and 'Shares' when it comes to advertising. Why is this important to your return? Although not the norm, but always possible, another magic moment of Facebook is that through the power of how social media functions, content can, and does, go viral! Expanding the reach of that content far beyond that of the initial audience can happen, and happen big. Translated directly? You can get tremendous reach when something goes viral. Viral generally means interest…and interest translates into 'purchasing interest'. It's a possibility that no other platform out there can provide.
Google Ads
The King of Search Advertising.
Google sees in the vicinity of 3.5 billion searches a day globally. With a few keywords and the click of the button, Google brings consumers who are looking for specific products, who are in the position to buy, right to advertiser's front door. And unlike Facebook, where advertising is somewhat restricted to consumers using the platform, Google is available to users everywhere. There are no limits. It's therefore easy to surmise that, even on its own, search engine marketing is not a tough decision.
Tremendous Reach and Audience
Google gives access to the largest audience out there. Ads can be seen instantly by millions at the search of a keyword. And with the ability to not only create and purchase Search ads, Display ads and Product Listing ads displayed on Google itself, advertisers can purchase ads on Google's other entities like Gmail and YouTube, and the millions of Google Display Network websites, expanding their massive audience even more. There is no other search engine with over 40,000 search queries every second.
Driving Sales: Quality Leads – Instant Results
The sole purpose of Google is to bring consumer and product together. Through traffic-generating campaigns or lead-generating campaigns, Google Ads are a very effective means of driving sales. Google Search Network, Google Display Network, and Google Shopping all target and remarket to the ideal consumer, showing them exactly what they came searching.
With 70% of all searches being done on Google, the right creative and campaign can bring qualified consumers, ready-to-buy, knocking on the door. For this reason, conversion rates are generally higher on Google as the consumer has intent. Even if they are new to a brand, with ads that are skillfully optimized and provide decision making detail, consumers will land further down the sales funnel resulting in a much shorter sales process.
And unlike Facebook, where there is a fairly high learning curve and time investment needed to maximize efforts, Google ads can start performing almost instantly. With billions of searches being done every day and users out there looking for products just like yours, you can pop-in a Product Display ad and bring your product to the eyes of buyers ready to purchase, instantly. Again, because they are searching specifically, not just scrolling, ads will start to convert immediately.
Google Levels the CPC Field: Maximum Relevance
Some businesses can be concerned about bidding costs on high performing keywords, and how to compete with companies with massive marketing budgets. And rightly so. Google takes many things into account when determining rank and relevance. The platform doesn't just allow the highest rank to go to the highest bidder. They take into account things like, is the CTR is high, is the landing page relevant and tight, and is the advertiser's website offering a better user experience than the competitors. If the answers are yes, advertisers can, and often do, pay less on keyword bids and still come out ahead. You don't have to pay top dollar to come out on top! Google levels the playing field for everyone. As long as keywords, ad quality, landing pages are most relevant to the user's search, the ad will shine.
Targeting
Reaching the right people is what advertising on Google is about. More importantly, reaching the right people who are buying. With Keyword targeting: the people looking for specific products by typing in search words that are relevant, and Demographic targeting: tapping into the wealth of data on behavior and demographics that Google offers and getting ads in front of the people buying similar items or located geographically close, it's hard to go wrong. Google also offers Language targeting, Device targeting, and Time targeting which all can be highly effective for certain product or services.
Negative Keywords
One unique feature is Google's Negative Keywords. To maximize the effectiveness of PPC spending, having a finely tuned set of negative keywords, words that you don't want to trigger your ads, can not only help cut down on the cost of uninterested clicks, but help work in conjunction with Keyword searches to bring in more relevant and quality leads. For example, adding the negative keyword 'free' eliminates searches for no cost items. These consumers have no interest in your product, so cutting out the likeliness that your items will show up in their search keeps your ads in optimal shape.
The advantages of advertising on both sides of the consumer equation are not only clear but valid. Business owners could still be successful in their marketing efforts by only choosing one advertising platform over the other. But the ability to build brand power, social following, customer loyalty and advertise directly on an intent-to-purchase platform that is fast, informative and easy to navigate is what makes Facebook Ads and Google Ads the perfect marketing dream team.
Also, it can't be ignored that building and nurturing of leads is what Facebook Ads does best, then moving over to solidifying the deal with Google Ads is how they can work in conjunction. Finding your own mix-and-match formula for utilizing both platforms to your advantage is how to take your overall Marketing Strategy to the next level. It can be summed up to this, how many times have you seen something interesting on Facebook only to find yourself going to 'Google it" to find out more? If you're like most, many! Synergy.