The Google Trusted Stores program has been helping many online merchants find new customers, and build trust with those they are working with.  The program allows customers to have confidence that the merchant they are working with is legit, will provide great services, and even that the products are guaranteed.  Up until recently, Google had limited this program to only certain brands.
According to a recent announcement from Google AdWords, however, Google is making it easier than ever to get the free certification for your Google Store.  This certification will allow you to display the fact that your store is Google trusted, which will make customers more likely to buy from you.  It also gives you a 'badge' that you can display on your ads and other areas, to build your reputation.  Perhaps most importantly, however, your customers will be offered free purchase protection through Google.  This means anything they purchase from your site will be guaranteed to be good up to $1000!  You can see an example of how a Google Trusted Store may be displayed here: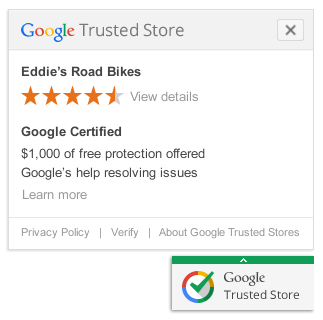 To become a Trusted Store, you simply need to create an account and add in a couple of snippets of code on your store.  This is a very simple process, and should only take a few minutes.  In the past, you needed to provide Google with information about your shipping and cancellation fees, as well as other things.
Other than the sign up and the code, you only need to have your store displayed on HTTPS (secured) pages.  Most stores likely already operate on secured pages so this won't be too much of a concern.
If you haven't already, you should really look into signing up for this great program from Google.  It is free and can really help your store or site to stand out from the competition.
If you're interested in applying, you can do so here https://www.google.com/trustedstores/