Google has recently announced some significant improvements to their tag management system.  The Google Tag Manager will look and function differently with a brand new API, updated interface and the option to use 3rd party templates within the system.  All of these changes are put in place to help make it easier than ever to take advantage of the tags.
Tags are a popular feature with many Google Analytics users as it streamlines the tracking of information and allows better use of the entire platform.  For those who aren't using the tagging platform yet, this is a great time to begin taking advantage of its many benefits.
Updated Tag Manager API
The new Tag Manager API will allow you to set up your own custom infrastructure so you only have exactly what you need, and nothing else.  This is a great way to eliminate some of the clutter that you may not use from your screens.  In addition, you can add in your own tools or other items to help make getting the work you need done completed more quickly.
With this API you can set up tools that allow you to change user accesses in bulk, for example.  You can add or remove permissions based on any number of factors.  You can also create user access templates based on your specific needs.
Third Party Tags
This feature is still being rolled out, but when it is done in the next couple weeks, you will see a wide range of different 3rd-party templates that are available within the tag creation flow process.  It is also easier than ever to add in your own tags to the process in a very simple way.  You will just select from a list of existing 3rd-party providers and the process is completed in just seconds.  If the tag you want is not yet in their list, you can use a custom HTML tag and have it added right away.  If you've tried using 3rd-party tags in the past, you will quickly see how this is a major improvement in the process.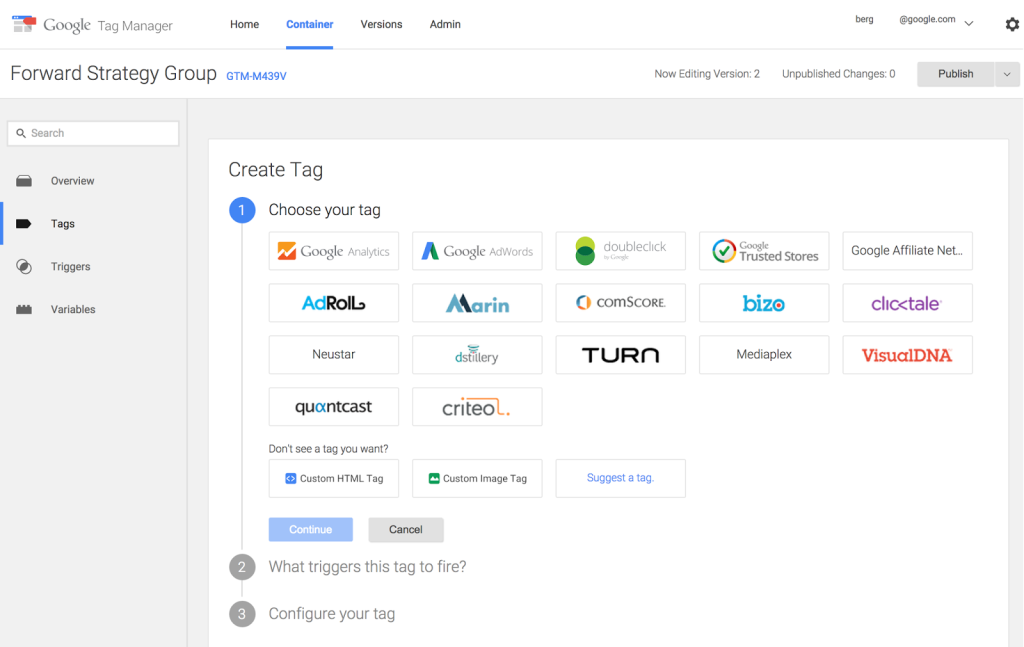 Improved Interface
In addition to the above two new features, the new interface will also make it easier than ever to get things done.  This interface is very simple to use and puts the things you use most right at your fingertips.  The structure is similar to Google AdWords, which will likely be familiar to many customers.  You'll also get a simple workflow, instant searches and an autocomplete feature that helps you to find what you need within your Tag Managers.  Added keyboard shortcuts will also make it easier than ever to complete common tasks.