When merchants are running any type of product listing ads (PLAs) it is important to ensure everything is working properly.  When there are errors with your data it can cause your ads not to be displayed properly or may even fail to display at all.  The problem many advertisers face is that it can be time consuming and difficult to go through all the data in their ads to ensure everything is set up perfectly.
This is especially troubling this time of year when advertisers are gearing up for the holiday sales season.  November and December can make up a huge percentage of annual sales, so even minor problems with advertising can have a dramatic impact on the success of a business.  With this in mind, Google AdWords has created a new feature to help find and fix problems.
The Diagnostics tab within the Google Merchant Center will help you to identify problems with any of your product data so you can make adjustments as needed.  It will help show a consolidated issue reporting that shows information about your Merchant Center account, feeds, and individual items.  This new tab will be replacing the Data Quality tab, which will helpful, did not give as complete a picture.  It was also note as easy to use.
You can see the new tab in an image from AdWords here: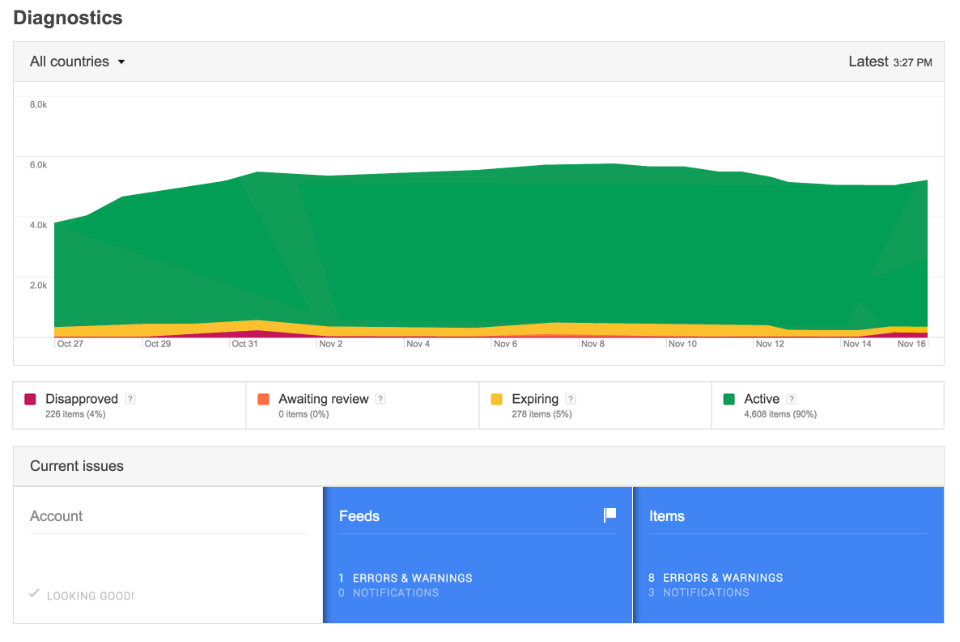 When you access this new diagnostics tab you will be able to review things like the historic overview of an item to see if changes have occurred (which may cause an ad to fail to display).  You'll also have access to a full report that you can download and review as needed.  The report will include any items that have disapprovals on them so you can make rapid adjustments.
This new feature will be a convenient way to ensure all of your ads are running properly and will be displayed to potential customers this holiday season, and well into the future.