As the app industry continues to grow and expand, developers and companies putting these apps out need to have better ways of getting their new apps out there.  The competition for getting people to install apps is extremely high, but if you can find a way to attract the users, apps can be extremely profitable.  With that in mind, Google AdWords has been looking for new ways to help developers measure, manage and optimize their apps across multiple ad networks and devices.
They have just announced a new set of quality media partnerships and ad options that are designed to help the app developers get in front of potential customers and have a successful business.
Exceptional New Solutions
Whether you're trying to drive people to install your app or to re-engage with it, you need to know just how effective different marketing efforts are going to be.  To accomplish this goal, AdWords has invested in a variety of great solutions to help developers get the consistent measurements they need no matter which app platform they are using.  This helps them to get a clearer picture of exactly what is working and what isn't.
For example, the Google Analytics for Apps feature is offering high quality in-app analytics that will benefit developers whether they are attempting to generate app installs organically or through ads.  It will also help them when they are looking to see just how much interaction their users have with the app.  To further this, they have partnered with over 20 ad networks including top names such as InMobi and Millennial Media.
Of course, not all of these partnerships are right for every developer.  This is why they have given developers the option to adjust where data is gathered and how it is displayed to ensure they are getting the most accurate picture of their environment.  They have even given developers the option to use third party measurement tools from places like Adjust, Appsflyer, Apsalar, Kochava and Tune.  This essentially makes the Google platform the 'one stop shop' for any developer who needs to get transparent, open and reliable measurements for their apps.
Improved Options for Promoting Your Apps on Google
Tracking information about apps is just one piece of the puzzle though.  Google has also made it easier than ever to promote apps on a number of different places including Google Search, their AdMob network, mobile sites and even YouTube.  They have even launched the option to run Search Ads on the Google Play store to help target customers when they are clearly looking for apps to install.   You can see what this might look like in this image provided by Google: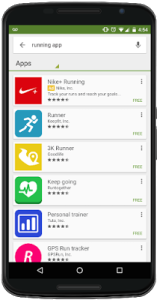 Their latest feature that was just launched this week is called the Universal App Campaigns, which allows advertisers to get in front of consumers on multiple Google platforms quickly and easily.  This system makes it easier than ever to set up an app install ad for Android apps right within the AdWords dashboard or even from within the developer console in Google Play.  You can see how this will look here: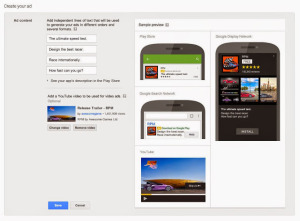 Using just one campaign you are going to be able to create a custom ad solution that quickly gets in front of millions of potential viewers who are browsing the app store, mobile sites, the AdMob network, YouTube or even just searching on Google.  This is one of the most effective systems out there today and Google is constantly looking to find ways to improve it further.  If you're an app developer, or you are promoting apps, make sure you are keeping up to date with these great options from Google to maximize your marketing efforts.