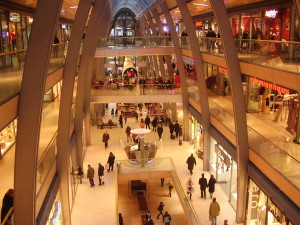 With the constant advance of technology comes ever-present connectivity that skirts defining lines between experiences online or in person. This phenomenon is changing the way people shop, and the way they live. By simply using any device within reach, consumers can locate nearby retailers or check for availability of products in-store within seconds. Most shoppers in the US, in fact, conduct some form of research online before ever making a purchase in the store.
With so many intersecting paths from consumer to purchase, it becomes more and more important to understand the effect of various media devices on the decisions of those consumers in order to better know how to move forward with marketing campaigns.
Google AdWords is diligently working toward measuring these intersecting paths from consumer to purchase. Since AdWords announced the addition of Store Visits to the Estimated Total Conversions, marketers have been able to better measure these new paths. As a result of bridging the digital and physical worlds, many different industries' businesses have gained a more accurate view of the full value of their AdWords marketing. Including store visits data is helpful in seeing the impact of their marketing.
When including store visits data, advertisers are able to measure up to 2x more conversions in the US Auto and Travel verticals. Guiding a customer to a specific dealer lot or hotel is a very high-value event. What this means, is that for every click on their AdWords search ads, they can attribute twice as much impact since the consumer made a visit to the showroom. Google AdWords aims to share more perspectives from actual advertisers already using the information that digital media drives people to stores. Especially information such as how the product works, and the best way to use creative, targeting and attribution.
With stories from both Sephora and Buffalo Wild Wings, AdWords shows the success of using this data with actual statistics. Sephora was able to optimize their mobile bidding strategy and gain a 25% higher return on ad spending than when measuring paid search impact alone. With the insights from store visits, Sephora knows to continue using Local Inventory Ads to drive customers into their many stores. Buffalo Wild Wings was able to realize an 84% spike in conversions using store visits data. With this information, the company chose to add location extensions to their mobile search ads, showing locations of nearby restaurants as well as contact information.
The idea of store visits data is not exact. It's an estimate based on aggregated and anonymized data from a sampling of users who have turned on their Location History. The data represents a broader population and is only used or reported if it meets very strict guidelines. For more information, visit the Google AdWords help center.
In the meantime, Google AdWords has created a Best Practices Guide to show users how to:
Improve online ads to be more helpful to customers interested in making a store visit.
Employ smarter targeting and bidding to increase the chances that the right person sees the ad.
Measure the incremental offline value of any online ad efforts.
Adjust campaigns to ensure maximum return for your business, using both offline and online conversions.
Google AdWords will continue to share ideas and stories from customers who already employ these insights to improve their burgeoning businesses.