Bing has made a lot of changes in recent months to help improve the search results and ads that are displayed for local searches.  When you type in "Hair Stylist in Tampa Florida" for example, you should see entirely different results popping up than if you typed in "Hair Stylist in New York City."  There are many things that businesses can do to make sure their company site is showing up when people are searching for local areas they serve.
First, the normal SEO efforts are important.  Making it clear on your page what areas you serve will help you to rank better for those types of searches.  This hasn't changed in quite some time and isn't likely to in the near future.
Running your Bing Ads campaign using geographic identifiers is another essential component.  This will help ensure your ad only displays when the customers are actually looking for your type of business in your local area.  This is one of the best ways to drive traffic today.
An often forgotten option, however, is the Bing Places.  Bing Places is a service where Bing allows you to 'claim' your business on the map and provide detailed information about it.  When people search for keywords and phrases that trigger your business, it may pop up above everything else, even ads.
The example given by Bing is when people do a search for "Dog boarding Redmond WA" and it will show the following results: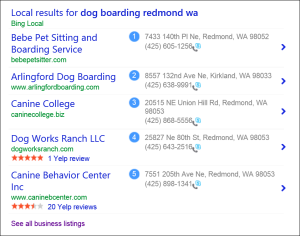 These are all local businesses with their contact information, reviews, websites and much more.  If these businesses had not claimed their property in Bing Places, they would not show up in the results here.  This, of course, would dramatically reduce the amount of traffic they are getting and cause many customers to go to a competitor.  Fortunately, it only takes a few minutes to claim your business in the Bing Places platform so you can begin benefiting from this great service.