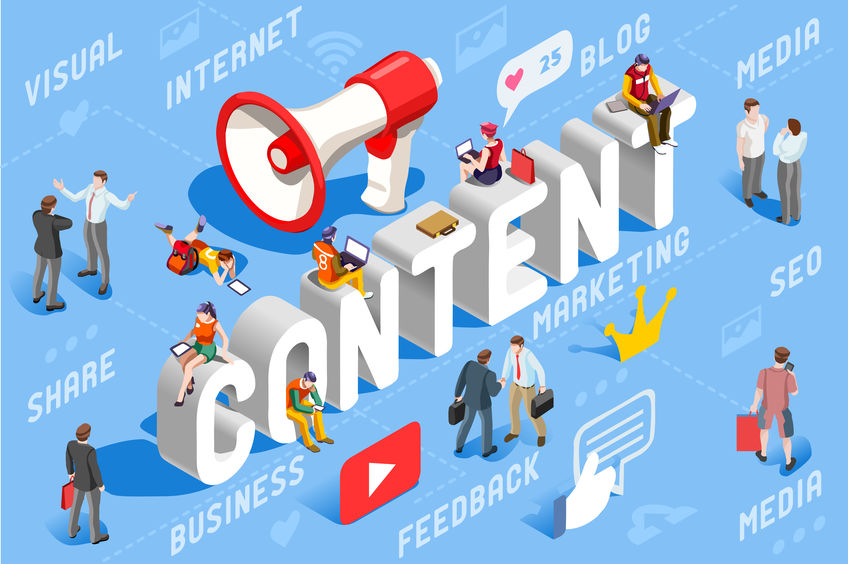 Marketing has evolved in many ways over the years.  No longer are the days of mass mail outs and generically worded radio spots in an attempt to make a sale.  The evolution has seen the creation of functional and informative websites, online stores and creative PPC campaigns. Marketing tools and tasks designed with the intent of generating traffic, engagement and conversions. But also strategies to help consumers make educated decisions and provide additional value in a variety of forms like, free eBooks, Webinars and ongoing subscriptions to email campaigns packed with comparisons, reviews and of course deals on purchasing.
At the heart of every one of these strategies is Content Marketing. It has become one of the most unique and highly personal approaches to building and retaining business in the digital marketing realm. It's a well-crafted, demographically targeted way of engaging, building and communicating information and value to today's consumers.
What is Content Marketing
Content Marketing is the creative and strategic approach to relaying relevant, value-added, well-crafted content to new and existing customers, in a targeted manner, in order to drive customer conversions.  Content that is intended to build and drive traffic, build engagement that extends customer relationships, and ultimately convert. 
Today's consumers want information that easy to access, right before them (almost handed to them before they even go looking).  They want to trust, something very difficult to convey and gain with the number of untrustworthy merchants selling online today.  And they want an experience. 
The generation of 'purchasing as an experience' was a foreign idea not too long ago but with the rise of Omni Channel Retailing and other creative formats, it has become top priority in strategic marketing.  Everything now is about the experience.  From buying groceries to planning and booking a vacation, consumers now place a high value on ease of use and how they felt throughout their purchasing.  In the past, the vacation itself used to be the experience that mattered, the part of the mix that would bring customers back again and again.  Now the experience starts long before one ever steps foot on that sandy beach.
Online content is everywhere.  From social media pages to blogs, websites, email campaigns, webinars, podcasts, and display advertising on search platforms.  It's become the norm for consumers researching a purchase, comparing products or making final purchasing decisions.
There's no escaping it.
But good content is not everywhere.  There are pitfalls and struggles in keeping content fresh, relevant, managed, not to mention, simply created.  It takes a certain level of know-how and creativity to design content that produces results.  Not every business has the in-house skill or resources to pull it off.  It can seem daunting.  And even though the value in hiring a results-driven agency to take on this creative process is most definitely measurable and proven, it's not always in the budget. 
Why Content Marketing
So is this Content Marketing world one that every business needs to jump into?  The simple answer is, yes. If you want to succeed selling online, or at the very least advertising online, you have to play the game. The businesses that don't benefit from it are very much the exception, not the rule. There are very few businesses out there than don't, or wouldn't benefit from having solid content strategies in place.
Let's dive into some of the pros and pitfalls of creating and building around content marketing.
The Pros
Build Brand Awareness
Brand awareness is a reflection of how consumers feel about and recognize a company's overall presence. It's how they understand and see what a brand represents.
Consumers are far more likely to purchase from a brand they understand and trust. Strong content allows a company to convey information and value, upfront, guiding the consumer to a clear understanding of what your brand represents, how they should feel about it and what sets you apart from the competition.
Consistent content across all channels can have a large impact on the consumer feeling like 'you've got your sh#t together'. And when building a brand, that's where it needs to start. If someone has content and creative, but it's not consistent, it's all over the place, there is no synergy. It speaks loudly to an inconsistency that can breed skepticism. But content and creative that's not only the necessary information consumers are looking for, but consistent, flowing from one channel to the next, can create a brand that looks and feels good, is recognizable. A brand that stays in the minds of consumers.
Strengthen Customer Bonds, Build Trust
Trust is a very challenging thing to create in today's online e-commerce world. For as many amazing companies out there, there are the ones that offer very little in the way of value. Content that engages and provides additional value (for free) keeps interested consumers coming back.
Content that is well written, creates an ease of use, and offers an experience that flows in the right direction (not bounces a consumer instantly into a 'call to action' before they even understand what you're all about) is going to provide the consumer with a level of trust.  Trust that, a) you have the right product for them (search content), b) you are willing to help them in their journey to purchase by providing value-add items at no additional cost (online review, comparison, eBook type content), and c) are going to make the purchase process simple and straight forward (website content).
Customer bonds and trust are imperative for building repeat business.  Everyone has experienced trust being broken with a company.  How many people return to that company?  I'd take a stab at, not many!  But when content is such that customers can rely on it, engage in it because it's meaningful to them, and even make their purchase 'more' by a value-added option (eBooks, webinar etc), they trust that you are providing them everything they need, and most likely they will remain loyal to that. 
Creatively Drive Consumers Through the Stages of Buying
Probably one of the most effective pros of content marketing is the ability to create and target information for your customers at all stages of the buying cycle.
The three main stages of the buying cycle are awareness, consideration, and purchase. As one can imagine, the information and content a consumer would need at each of these stages is very different.
Someone just starting out searching doesn't necessarily want to see additional accessory products, or even purchasing details. They aren't there yet. They want to see a brand that looks legitimate, perform an online search and see many options on valuable content. They want to start to be engaged in creative content that guides them into wanting to consider your products or business.
For the consideration stage, blogs, blogs, and blogs! Blog content is not only a great way to provide your customers with value-added information, comparisons, and all the reasons you're great, it works on the internal side of your marketing efforts as well. Blogs are one of the best ways to get better positioning with SEO. They drive traffic to your website, which ultimately will boost your SEO. Win-win!
And in the purchasing stage, creating your content that converts that consumer, is key. When they are ready to purchase, content must be precise and simple. This is where the consumer is looking for information like 'sale' or 'discount' or anything else that will keep them from bouncing off of your page at the last minute because the process or information is not concise. Losing a valuable customer at this point due to content that's cloudy would be a very large, and easily avoidable, missed opportunity.
Knowing all the stages and what the consumer is looking for at each stage will help create content that flows and drives the consumer through each stage and on to the next.
Evergreen and Viral Content
This is the big kahuna of content marketing. It's also another advantage of awesome blog content. Evergreen content is content that will stand time. It's content that will remain relevant and useful for a very long time, if not always. It can be pieces like instructional information, top tips, reviews or lists. This type of content never really changes.
Things like current news or seasonal/trendy topics fade in time but providing top tips on how to determine if something is right for you will be as valuable to a customer today as it will be tomorrow. So creating content that will not go obsolete and never be searched again, is not the goal. It may at times be necessary and shouldn't be overlooked but the ultimate goal is creating regular content that will be keyword searched for the foreseeable future should be top priority.
And what business wouldn't want to create content that not only remained relevant for years to come (attracting conversions which essentially cost you nothing) but that was shared by 1000s or 10's of thousands for weeks and even months? That kind of free exposure is most definitely not something that will happen every day…but it is very possible. Social media channels are the pinnacle of where this type of content thrives. A beautifully crafted Facebook creative can go pretty far if it elicits an emotion or is of value to share. The same goes for blog posts that people can relate to and want to share with their own audience.
Viral content most definitely takes a creative team to brainstorm and create. It also might be hard to gauge its true value (because you never really know until it happens) …but once it does happen, it's value could easily be off the charts. Gaining exposure to 1000s that would have otherwise cost a fortune to tap into, purely by organic social sharing, is relatively priceless.
Video Advantages
Visual sells. After all, if it didn't, we wouldn't have marketing, period. Video is a great testament to this. And the greatest advantage again being two-sided. Awesome video content (instruction how to's, reviews, opinion pieces etc.) are amazing at providing value to consumers and creating trust. But unlike text-based posts, where measuring its effectiveness can be difficult, video content helps increase the amount of time a visitor may spend on your site and is easily measurable. And the longer the time spent indicates to the search engines that you are providing quality content, which in turn helps boost your SEO.
It is also much easier to convey emotion within video than typically within even the most well-crafted, written piece, which can be a tremendous leap in the right direction when building your brand.
When marketing strategies are generally built to create greater relationships and trust, using the power of video to evoke emotion, either immediately or subconsciously (remembering the clip somewhere down the road) it is a highly effective form on content.
User-Driven Content
This is truly a win-win scenario. User content is some of the most trusted content there is. People tend to trust other people's opinions far beyond those of a company itself. From reviews to opinions, to customer photos, all of these 'real-life' examples are far more trusted and therefore likely to drive conversions over generically 'crafted content'. Well placed reviews or entertaining customer experience videos are excellent forms of content that can see consumers jumping directly into purchasing.
The additional benefit is that when customers want to share, it means they are engaged, loyal and helping you drive your brand. You can't ask for more than that!
Pitfalls
(General)
Not Knowing Your Audience
This is a key pitfall across all areas of Digital Marketing. Not knowing your audience will prove fatal with every marketing strategy a business has. Content that is too general will not be found by the people who might be looking for it, and might be found accidentally by lots of people who aren't looking for it (which can be costly in the case of PPC campaigns).
The adage, 'you can't please everyone all of the time' really comes into play here. It's an easy pit to fall into. 'The more people I can write this for, the better'. Not true. Knowing what your potential customers are searching, what information they want at hand, and how they make decisions and purchase, will guide your content to take the right audience through your buying cycle flawlessly. You have to understand your audience in order to build your content with the right keywords and other search indicators to be successful. And you have to understand your audience, as mentioned, to create content that is appropriate and relevant for where they may be in the purchasing cycle.
Not Providing Quality Content
We all know that the web is jam-packed with content. Some subjects are so oversaturated with it it's a daunting task to weed through. Understanding what your audience is looking for and then creating content that is unique and offers value to their decision-making process, is paramount. Especially if your business, or topic, is something that has been written about many times over (similar to this piece itself). How do you get seen in a sea of similar content?
Creating content from a unique perspective. Actively answering to pain points that the consumer may be struggling with. Giving clear, down to earth, easy to read and understand information that isn't just selling, but providing additional value. Conveying your message in a conversational tone which has been proven to be more effective than highly statistical, overly analytical pieces.
Also aiding quality, a well-defined purpose will go far in producing what works. Are you trying to build awareness? Are you going for conversions? Are you trying to show you're a brand leader by offering spectacular value add, custom features or even supreme customer service? Content that is relevant to these areas helps it to be of value.
Missing The Boat with Calls to Action
At the end of the day, all of this content has a purpose. It's getting potential customers to convert. Whether that's through subscribing, enrolling in a webinar or ultimately a purchase, it's why you're creating it.
Equally as bad as content that is too 'hard selling', if your content isn't providing you with any return, it has no value. Simple.
Each piece needs to have value to your audience, but each piece is also your opportunity for a 'Call to Action'. Learn More – Read On – Enroll for Free Today. A purchase right out of the gate isn't going to happen the majority of the time. But nothing is going to come of your content investment if it's not created with an end goal in mind. Content with a purpose is the name of the game.
(Content specific)
Content and Creative That Falls Flat
This is where it can get dicey for a company that doesn't necessarily have the resources or experience in creating content that converts. We've all seen advertising on social media or search pages. We've all been pulled into intriguing headlines and images that push us to want to learn more. Without strongly-worded headlines or thoughtful creative, your content may just be that, content.
Overlooking 'Sharing'
The best ROI on content there is is the content that gets shared. After all, it's free! The initial investment gets made once, and then the content gets shared far beyond its immediate reach. The biggest pitfall is creating a compelling product comparison or user-driven, glowing review piece and not presenting it in a way or in a forum so users can share it. No matter what the content, webpages, blog posts, ads, or videos, they all must allow for sharing. Your loyal customers will be there to share your story, but you have to make it possible for them to do.
EDITING!!!
Let's face it, a misspelled word on a blog post is almost normal. It happens. But misspelled content on a display add, or video headline or even in a product description is not ideal. And if it happens regularly, over time, it will deter people from continuing to read.
Sloppy text and a lack of editing can take great content with potential and send it in to the great graveyard of 'no one's reading this'! Consumers expectations on 'all things purchasing' are very high. It's hard to generate trust, a positive experience, and a strong brand presence if the content a consumer is scrolling through is hard to read, riddled with errors and not well planned out. Editing can be pricy, but there are many simple options available so one can have the confidence that their piece is solid.
That said, some mistakes turn out to be so ridiculously ironic or entertaining that those posts themselves go viral (ah, human nature) but I'm certain that a business would rather be known for it's sharp, intelligent, possibly even witty content rather than a viral joke. Although they do say controversy sells! I jest!
Conclusion
Content marketing is not something that is escapable. It's here to stay and has infiltrated all aspects of today's marketing. It is leaps and bounds ahead of the marketing strategies of 10 years ago for creating customer engagement, customer loyalty, building traffic and generating solid leads. It's taken marketing to a whole new 'personal' level.
But without a solid understanding of audience and how to create content that works, a business can quickly sink into online oblivion without it.  It really doesn't take a copywriter's level of know-how to start creating content and strategically trying it out.  Jumping into some blog writing, getting more creative on your social channels and even considering PPC advertising are some simple ways to get a feel for creating content that works.