Google AdWords knows that a growing percentage of people are using search engines to help discover local points of interest.  In fact, people searching for phrases followed by "near me" has doubled in the past year and more than 80% of those searches are from mobile devices.  This means that people are quickly learning just how helpful Google (and other search engines) can be when looking for a local business or other items in the area.   With this in mind, they are working to further improve the search results for these local inquiries.
Learning about the Nearest Location
One way they have enhanced the SERPs for local searches is by improving the local search extensions.  These extensions allow businesses to show as many as three locations for a business within a single ad.  This makes the AdWords program even more flexible than ever and helps companies to show their potential customers exactly where they are located to hopefully help drive people into their businesses.
Additional Business Results
A new feature that Google has just rolled out is going to display more businesses in the SERPs for searches that include geographic modifiers.  If, for example, you search for 'nearby auto repair shops' you will see at least 3-4 different businesses in the area.  This can be very helpful for both searchers and businesses.  You can see an example of this in the image below provided by Google: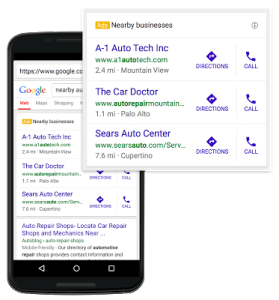 Improved Extensions
Google AdWords knows that consumers want to find the information they need as quickly as possible. With that in mind, they are growing the ways that ads can be fine-tuned to give the exact information that is needed based on the context of the search.  For example, using ad extensions a brand can make their ads more engaging.  Adding additional extensions, when done properly, can be even more effective.
This is why Google is now allowing you to use as many as four ad extensions in each ad the tis displayed.  You can include things like site links, call outs, reviews and more to help quickly give your potential customers the information that they are looking for.
Using Extensions Properly
Of course, you need to make sure you are using extensions properly to get the best results.  AdWords is here to help with that as well.  Based on the settings you choose, AdWords will trigger the right extensions to help give you the best results for your ad campaign.  One example they gave is with Accor Hotels, which had a 14% increase in conversions when they began properly implementing their ad extensions.  You can see an example of the Accor hotels' extensions in the image below, and how it was able to help them drive more traffic, which leads to more conversions.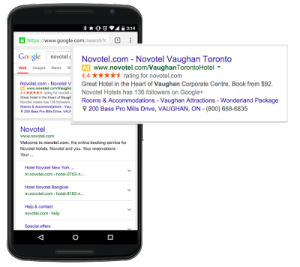 Of course, there are many things you need to do to improve your overall conversion rates with Google AdWords or any ad network.  Taking the time to try different strategies, and making sure you use all the tools provided, will help you to get the best possible results.