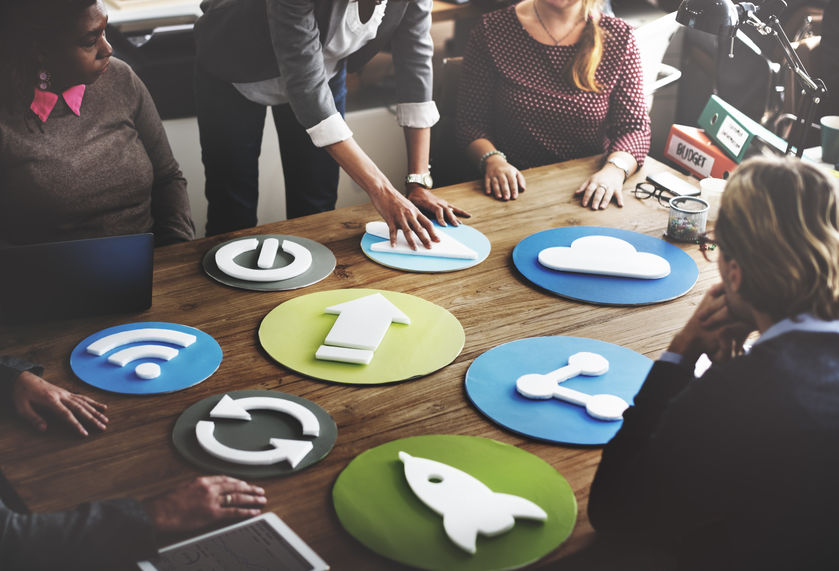 For any small business, hiring a whole team of people dedicated to one department of their business is likely not an option in the beginning. Having specialty employees is truly a luxury that only the industry giants can typically afford.
Most small businesses operate with specific people in the areas of finance, sales and customer service. Outside of that, typically employees are hired to handle a multitude of tasks and possibly in a variety of departments. It just makes sense for the bottom line. If one's marketing team had a specialist for all aspects of today's marketing world, it could easily be as big as the rest of the company. There's not a small business, with a successful business plan, that would make that decision, nor afford it.
But with tasks like web design and development, SEO, social media marketing, search marketing, online branding, and email campaigning, a multi-tasking 2-person team is just not going to be able to give your marketing efforts the priority and dedication they need to be effective.
This is where a marketing agency can step in nicely. With options available like hiring a full-service marketing team or a dialed back scenario of sourcing talent to handle very specific tasks that the in-house team doesn't have the skills to develop or execute. Marketing agencies come in all shapes, skills, and sizes…but there is no doubt that there is one out there that could handle the tasks that you need to be doing to stay competitive and profitable.
Here are a few benefits that can help you decide what's right for your business.
Diversity of Skill
Whether you are lacking in certain skill sets, or aren't even sure what skill sets you need to handle your marketing efforts, one of the greatest benefits to working with an agency is diversity of skill.
Most agencies cover all ends of the digital marketing spectrum with specialized staff handling client tasks within their own unique skill sets. It doesn't mean you can't find this skill for your business, but the cost would be tremendous if you started to build a team of individual specialists. Paying multiple salaries, benefits packages, equipment costs, not to mention constantly updating training.
Having instant access to highly skilled professionals such as content writers, SEO professionals, social media professionals, ad specialists, to name a few, would be quite the financial burden to hire in-house. Not to mention the time and resources it can take to recruit, train, and administer such a vast array of people. SEO training alone can take months, if not years, to master.
An agency not only provides access to all of the skill sets necessary to handle the range of your marketing needs, but they also hire the big guns, the top talent in their field. Which can make a huge difference in a competitive market. And the benefit for you, the business owner, is individual costs for specialty talent don't become overly taxing and consuming to your overall operational budget.
You get access to all of the skills needed to create and execute a professional strategy, without the overhead and time constraints of managing in-house teams.
Staying within Budget and Deadline
Agencies work on accountability. Accountability for success, accountability to your budget, and accountability for deadlines. Your success is their success. Blowing through your budget because a campaign isn't optimized correctly is not something that would occur. An agency is highly experienced at managing the budget they are presented and getting the results you need within that budget. They will very likely even lay it all out for you before they even start so you can see where your money is going, how it will be used, what they will do to get the results you need, and possibly how they are going to get you a better ROI than you've ever achieved for your marketing dollars.
Likewise, when you have multiple marketing tasks and campaigns occurring in tandem, tracking your spend and success can be time-consuming and quite complex. Agencies are experts in not only managing the budget but reporting the results. They provide a 'tidy package' that is worth its weight in internal resources!
Offering measurable results, an agency understands showing your true ROI can be challenging, especially in the digital marketing field and even more so within your in-house team. In–house teams can be talented at accomplishing the tasks they are assigned, but reporting on them to show profitability can be difficult. Measuring actual results in marketing can sometimes be assumptive or vague. And Senior management generally doesn't like either of those words!
An agency will establish KPI's for your project specifically. Indicators that they can report back on to show measurable results over time. They help you understand if campaigns are working profitably and hitting objectives.
And with the 100's of reports that one can find on Google Analytics, knowing what reports are important to the actual picture of success and how to finitely read the data to understand how to use the information can take years to fully appreciate. It's very complex. An agency will take the guess-work out of analyzing multiple reports. It's part of their job to fully understand the data, how it interacts with different variables, and how it impacts your overall campaigns. Anyone can read the numbers, but if you don't fully understand the implications and affectations of the data, it's really impossible to understand how to use that data for optimization.
Perspective
A fresh perspective is a must in all parts of business. But none more important than marketing. To become stale, in a world of marketing, is a guaranteed failure. Marketing is constantly moving, trends changing, and technology evolving. In-house staff, although most have loyalty and vast knowledge of your business, can become very narrow-minded in a 'we've always done it this way' approach. Deadly, in an ever-evolving, competitive world of traffic, leads, and conversions.
An agency brings their expertise of 'audience', buying behaviors, and trends and combines that with their vast knowledge on how to capture them. They know how to remain fluid in order to stay on top of industry changes and buying behavior changes. It's one thing to fully understand your business, it's very necessary, but when it comes to marketing, you need to fully understand your audience.
Most agencies will research your business and the trends in your industry, just like your in-house team might do. But where they expand beyond that is they also fully understand marketing trends and how to work those trends to your businesses advantage. They fully understand the individual aspects of a highly zoned in digital marketing strategy and what's to work for you in your specific industry.
Another great element to working with an agency and how they can bring a fresh perspective to your strategy is they have the creative minds to formulate an entirely new concept. Possibly one that's more current and 'outside of the box'. They are forward thinkers; it's what people hire them for. Coming up with viral concepts and creative is how agencies start to make a name for themselves.
Latest Tech and Trends
As previously mentioned (but totally worth mentioning again), keeping up with the latest technology is virtually impossible for a small business with a very modest budget. There are tremendous costs to the ever-evolving world of technology (in any department) and some of the biggest companies out there have a hard time keeping their teams decked-out with the latest and greatest.
For an agency, it's what they do! They function at the apex of 'the latest and greatest'. They can only be as great as the tools and technologies in which they have, as well as staying up-to-the-minute on the latest trends driving the digital marketing world.
Productivity
Productivity, as in any business, can be a challenge. In-house teams can have a fair amount of down-time or 'water cooler talk'. When dealing with an agency, water cooler time is eliminated entirely because, you, the client, is only billed for working-hours. Packages and billing can vary per agency, but one element is certain, paying for employee downtime doesn't exist.
With your in-house team, you're spending dollars for ALL hours, whether working directly on a specific task or multi-tasking within another teams' tasks. Most small businesses share employees throughout the organization as a cost-effective way of getting more operational tasks covered without hiring an individual for each. Cost effective, but not at all super-efficient. Prioritizing can become a major issue, because every department will always want their tasks to be top of the list when priorities are being established.
Your agency will always give your marketing strategy priority. There is zero risk that any of the team players will be pulled into other departments to fill a need.
Scalability
A huge element for any small business is scalability. Growing is what everyone desires, but it's not always easy. In fact, it's rarely ever easy. Scaling up is almost always taxing and stressful for all departments. The good news is agencies know how to scale. They know what it is you need in order to smoothly scale your marketing strategies to achieve the outcome you require. They can respond quickly and effectively to the natural ebbs and flows that occur when any business is scaling up. They know precisely how to optimize your strategy for growth, how to manage it, and monitor its success.
An agency also has the capacity to scale upwards with the latest technology, training, tools, and most importantly people, needed to effectively execute and manage your marketing strategy. Upgrading licenses for software, keeping staff training fresh, and up-to-date technology used in daily tasks can be quite costly for a small business.
The biggest benefit to scalability? Working with an agency allows you, the business owner, to focus your internal resources on directly dealing with growth, from an operational stand-point. An 'all hands on deck' ability when needed for activities like store openings, office expansions, or operational changes and efficiencies due to growth.
With all of these benefits, what does one do next? Hiring an agency can be a monumental task. So how does one start to research what's best for their business…and their finances.
What to do and how to determine if an agency is right for you…
First and foremost, you need to establish what is it that you need. Do you need an entire marketing department (full-service agency) or does your team just need a few holes filled-in with some specialty talent? Develop a comprehensive check-list before you even start your agency search.
Has the agency ever worked for a business like yours? Do they have experience in your particular line of business? Did they have success with that?
How does the agency present itself? Are they generating for themselves the successes that you are looking for them to generate for you? If not, that could be a red flag. Any agency should be highlighting their skills through their own channels. 'Look what we can do for you (because we're doing it for ourselves)' kind of showcase.
Results! How are they going to establish your businesses KPI's and how are they going to report those to you? Are they making huge promises that seem unlikely? Definite red flag.
Costing. This can be a tough area to determine if your business has never used an agency before. You definitely don't want to fall into the trap of a super low quote with high hopes attached to it. It likely isn't going to provide you much in the way of ROI. Likewise, you don't want to commit to costly services that you really don't need and won't be worth the investment.
You need to make sure that any agency you choose to work with hits on all of your predetermined needs. Hence why the first task of establishing your needs is so important. Agencies come in all sizes, skills, and niches. The right one for you is the one that can fulfill all of your requirements with ease and experience and provide you with the greatest ROI.