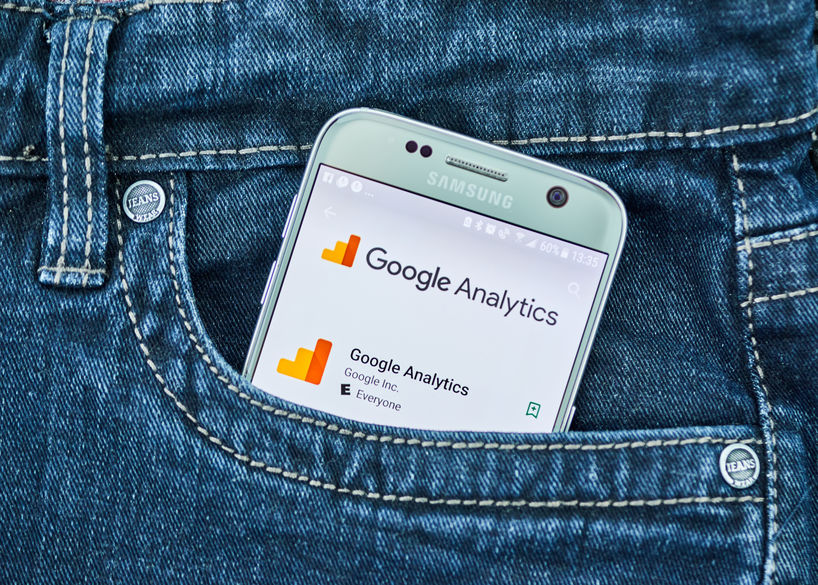 What Is Google Analytics?
Google Analytics is a freemium web analytics service provided by Google as part of its Marketing Platform. Essentially, it lets businesses track their website traffic by providing data on visitors. Since its launch in 2005, Analytics has become the most used service of its kind in the world. Analytics even includes a software development kit (SDK) that lets businesses track traffic from mobile apps on Android and iOS.
What Can Google Analytics Do?
Every Analytics report is made up of metrics and dimensions (more on these below) set up in columns and rows, respectively. Using web beacons inserted on webpages in JavaScript, Analytics tracks which content engages users. It can also track goals set by the site owner (for example, sales or file downloads), known as conversions. Analytics displays user information in a dashboard for casual users while offering more advanced metrics in its reports for more experienced users.
Analytics helps businesses optimize their websites by showing which pages underperform. The platform also displays referrers that bring users to their site and the length of time a user spent browsing. Analytics even displays a user's general geographic location. These tools all function to help businesses interact with their target audience.
The e-commerce features track sales performance, revenue, and transaction information. Additionally, businesses can see which users are on their website in real-time. The platform's cohort analysis also lets you break down users into specific groups for more effective marketing.
Is Google Analytics Free?
As mentioned above, Analytics is a freemium service. This means that the base package is free, but you can purchase upgraded packages with more features. The major benefit of this model for the beginner is that it lets you get comfortable with using Analytics before committing to a product you are still learning to use. The free version of Analytics is great for new entrepreneurs and small businesses.
The premium service, Analytics 360, is geared toward larger businesses in need of more user data and detailed features. Analytics 360 is scaled in cost and starts at $150,000 annually. As the price tag should make clear, it is an extremely advanced tool kit for high-level marketing operations in large-scale business settings. For small businesses and individuals, the free version of the platform is more than enough.
How to Set Up Google Analytics?
Getting started in Analytics is pretty simple. Just use an existing Google account. (If you do not have a Google account, create one.) Once you are logged in, sign up and fill in your information. Follow the instructions to get your Tracking ID, and then add the ID to your website.
How Do You Track and Optimize ROI?
Analytics can help you track and optimize your return on investment (ROI) with its ROI Analysis and Cost Analysis reports. ROI analysis can be done using the Return on Advertising Spend (ROAS), which Analytics calculates using Conversion Value/Channel Spend. Conversion value is the e-commerce revenue. If you spend $100 on Google AdWords in a given month and make $1,000 in revenue as a result, you have a ROAS of 1,000 percent. Effective marketers find what creates the highest ROAS and focus their investments accordingly. Analytics can even retroactively calculate your ROI, enabling you to check previous advertising campaigns for effectiveness.
Tracking your ROI is vital because it helps prevent wasted investments and lost profits. Analytics' ROI analyses can be critical tools in checking whether your advertisement campaigns are an effective use of funds. Understanding your ROI is key to successfully engaging with your target audience.
What Is a Metric in Google Analytics?
Metrics are quantitative measurements. Metrics are all about numbers: numbers of first-time visitors, return visitors, buyers, sessions, and the like. So, the metric Sessions tells you how many sessions there have been in total, while Pages/Sessions tells you how many pages are visited on average in a session. Metrics are calculated as overview totals and in association with dimensions.
Some metrics are more valuable than others for the average user. For example, you will likely want to track the differences in how new and returning visitors use your site. Improving the experience of first-time visitors is key to creating returning visitors. Analytics lets you isolate these metrics to customize the experiences of new visitors, returning visitors, and even regular customers. This is how you can improve your conversion rate (the number of first-time visitors made into returning visitors, etc.).
Another vital metric is Referrals. These are the sources that lead visitors to your website. Visitors are broken up into three categories: direct, search, and referral. Director visitors visit your site directly by entering its URL, while search visitors find your site through search engines. Referral visitors are those who find your site through other sources, such as other sites or advertisements. Tracking these metrics is essential for marketing success. If your director visitor numbers are low, your URL may be too difficult to remember. If your search visitors are low, you may need to work on SEO (search engine optimization) to bring the numbers up. If you have few referral visitors, you might not be advertising effectively.
Other common valuable metrics are Value per Visit, Cost per Conversion, Bounce Rate, Page Views, and Average Session Duration. These are all important in optimizing your website's user-friendliness and marketing success.
What Is a Dimension in Google Analytics?
Dimensions are the attributes of the metrics Analytic tracks. One example is City, which tells you which city a session originated in. Analytics will usually let you add a secondary dimension to your report. So, if you want to know what browser is most used to view your site, you can simply add the Browser dimension. You will then see which browsers were used in sessions and what cities they were located in.
You can also change the primary dimension in a report to display the one you want to see. Dimensions are valuable because they give you more detail about sessions and users.