When you're starting a new ad campaign it can be difficult to figure out exactly what you want your max bid per click to be.  It is important to bid enough to get your ad seen and clicked on, but not so much as to waste your money.  In an effort to make this easier for their customers, BingAds has released a new feature called the Bid Landscape Tool.
This tool will allow you to preview what your estimated views and clicks will be for any keyword in your campaign based on your new bid settings.  Bing can quickly provide you detailed information about how your campaign will perform based on historical data and their internal algorithms.
The feature is located within the Ad Preview and Diagnostics tool on your BingAds dashboard.
When using the tool, you can identify why your ads are not getting seen enough, and even get recommendations from Bing on what you can do to help resolve the problem.  Bing will suggest a number of different options, and list what type of results you can expect to see. You can also type in your own bid limits, and BingAds will provide the expected results for that as well.  You can see an example of what this may look like here:

When you click the preview button based on the bid levels, you'll see the full results, which will look like this: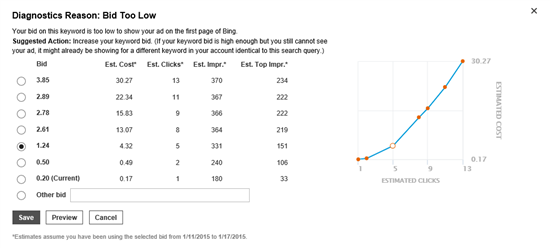 This feature is currently only available for text only ads, but will likely roll out to other options in the future as well.  Once you've reviewed the estimated results provided by BingAds, you can implement the change by clicking save, otherwise you can cancel it to see other options.