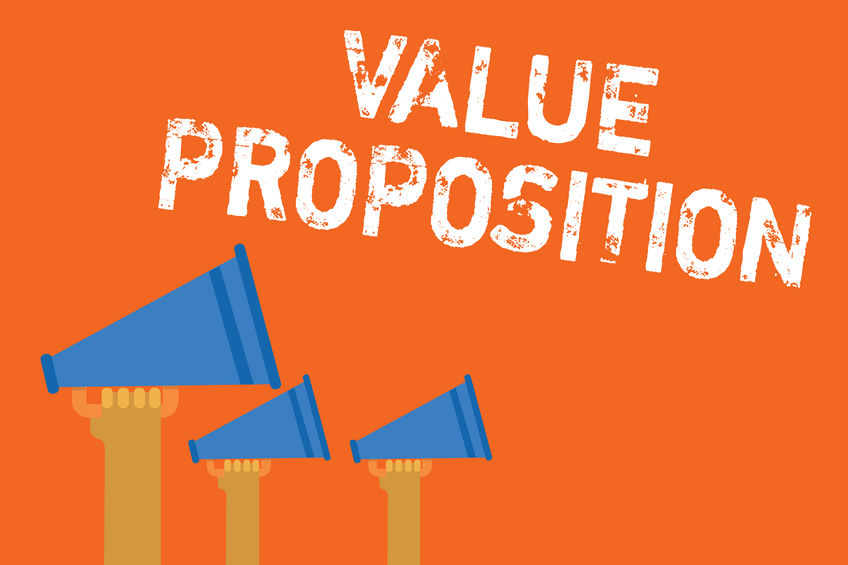 Value Propositions are the value that companies promise to bring to customers who buy their products or services. When you make a value proposition, you introduce your brand to your target audience. Your introduction lets you tell customers what your brand stands for, what it does, how it does it, and why it should be their first choice. Value propositions can be business statements or marketing that explain to your audience why they should choose your brand.
Why Consider My Brand's Value Proposition?
If your value proposition is captivating and convincing, you can gain potential customers. Your value proposition is your way of convincing your audience that your products or services will give them better value than other brands. Effective value propositions showcase what your company has to offer and why it is better than your competition. The goal is to display that your brand can better fill potential customers' needs than alternatives.
What Is a Value Proposition?
Value propositions can be seen as promises. Your value proposition is your promise to your audience that your brand is their best bet. This is why your value proposition needs to be easy to grasp. Make sure it clearly explains how your products or services can help potential customers. It should also show how your brand delivers benefits above and beyond your competition. Effective value propositions cut right to the point and appeal to customers on every decision-making level. This includes a rational appeal showing your brand's superiority in a likable and relateable way.
Brands use value propositions to attract potential customers that have the most to gain by patronizing them. Effective value propositions maintain what is called an economic moat, which simply means an advantage over competitors. The phrase was coined by Warren Buffett. Buffett famously said that the wider your company's economic moat, the bigger it will grow and the stronger against the competition it will be.
How Do Value Propositions Work?
Your value proposition tells your target audience the most important information about you. It also explains why your brand is the best choice for those customers. This centrality of your value proposition means it should always be prominently displayed on your website and other touch points. Your value proposition needs to be intuitive too so that potential customers understand the value your brand brings without needing to look further.
Effective value propositions often stand out because of a specific structure they share. Most often, effective value propositions use powerful headlines with a clear message about how your brand benefits customers. Your headline can be a catchphrase, a memorable sentence, or a slogan. You can use a sub-headline to expand your headline with an example of why your brand is superior and unique.
Some companies also use very short paragraphs (no more than three sentences), while others use bullet points to make information stand out. Just be sure not to go overboard. Your pitch needs to stay short and pithy to be effective. Subheadings let you highlight your brand's benefits to the target audience. However, attention spans are short, and you need to communicate your brand quickly.
Maintaining this structure (strong headline, concise subheading) gives prospective customers a quick but powerful impression of your company. Using visuals is an especially forceful way to communicate your message. Try to think of creative ways to combine these features in your value proposition. Make sure to ask for customer feedback too. Customers generally enjoy being asked for their input.
As long as your value proposition is unique and communicates effectively with your audience, you can use whichever format works best. Effective value propositions will eventually show results with customers deciding to patronize your company. Your pitch also needs to be easy for customers to understand. Make sure to avoid trite buzzwords and overused descriptions.
Making Sure Your Value Proposition Works
Testing your value proposition is a vital part of making it effective. There are two main methods companies use to test the resonance of their messages.
A/B Testing is when a company creates two or more value propositions and split test them. This means the company tries different propositions on different segments of their target audience to see what works best. The most accurate way to split test propositions is to measure sales conversions. When that is impossible, lead counts and click-through's come in handy.
PPC (Pay-Per-Click) Advertising can help companies figure out if their brands are effectively communicated to customers. The cheapest and fastest options are using Facebook Ads or Google Ads, which prove effective for many companies.
You can split-test ads that use different propositions but target the same sector of your audience. Whichever ad gets a better click-through rate has more impact and interest. However, click-through's do not always convert to sales, so this metric only goes so far.